Signature Home. Prepare To Raise Your Expectations
Residences by Architect Kirk Stathes fit enduring values to extraordinary livable space. Prepare to raise your expectations.
Small commercial spaces by Kirk Stathes enhance the functions of your enterprise. Rewarding hard work with a bottomline value proposition.
---
Recent Praise
Kirk was sensitive to our lifestyle. Just by observing our existing house, he knew exactly what would best fit our lifestyle in our next home.
Recent Project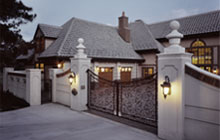 Denver Polo Club, Gallery Entry Gate Detail